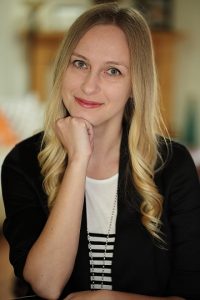 Anna received her Bachelor of Arts in Psychology from the University of Alaska Anchorage (UAA) and her Master of Education, specializing in autism and other developmental disabilities, from the University of British Columbia (UBC). She completed coursework in Applied Behavior Analysis and advanced training in Verbal Behavior taught by Dr. Vincent Carbone. Anna is a Board Certified Behavior Analyst (BCBA).
Anna was first introduced to the science and application of Applied Behavior Analysis nearly a decade ago when she began her career as a Behavior Interventionist working at Alaska Early Intervention Project under the supervision of Dr. Todd Risley.
Working as an interventionist Anna has acquired the knowledge of basic principles of ABA and superior hands-on skills implementing variety of behavior analytic teaching techniques including Discrete Trial Teaching (DTT), Incidental Teaching, Pivotal Response Teaching (PRT), and Natural Environment Training (NET).
Completion of graduate training expanded Anna's knowledge and skills in providing effective and collaborative consultation to school teams to assist in meeting the needs of diverse learners. Through graduate coursework, she has also developed interest and understanding of family-centered principles and practices and learned how to effectively include the family in their child's intervention planning and empower the family in the process.
Anna has extensive experience in providing hands-on therapy for children with ASD, conducting functional assessment and developing behavior support plans, training and supervising intervention team staff, conducting skill assessment and developing programs that address each child's unique needs, developing and facilitating play and social groups, and conducting parent and professional workshops.
Anna is committed to continuing education and regularly attends workshops to expand her knowledge and skills in delivering effective intervention to children.
She is a full member of Association for Behavior Analysis International (ABAI).